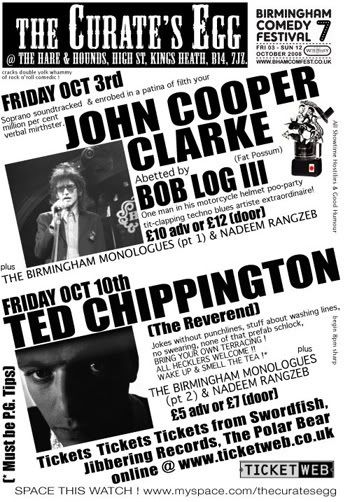 Those
Curates Egg
types pull off another coup and bag a return visit from Johnny Clarke (Oct 3rd,
part of the Birmingham Comedy Fest
). Caught him at the Hare & Hounds last time where he did around Two hours of killer stand up (just a couple of poems though) only interrupted when he politely asked leave to take a leak. Age (and rehab) has certainly made him more reliable, we went to see him several times in the 80's and he just didn't turn up (probably on a bender with the cash he made from those Sugar Puff Ads).
I only saw Ted Chippington once ~'86 (supporting
Fuzzbox
) but STILL tell the joke about my Dad being in 'Nam, <pause > that's Cheltenam, Ha Ha Ha!.